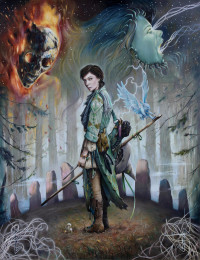 When I wrote Raven's Wand, it was simply titled as such. There was no 'Book I of . . .' because there wasn't a book II, let alone a series, but something wonderful happened as I typed chapter after chapter – I found myself getting excited about creativity again for the first time in many years. When I reached the last page I could have typed 'The End', but I knew it wasn't the end. I just wanted to keep writing, and so I teased out the most logical story threads from Raven's Wand and began weaving them again. The result was Flowers of Fate, and at last I was justified in adding 'Book II of The Dark Raven Chronicles'. It might come as no surprise that I didn't stop there . . . by the end of Flowers' I still wanted to keep writing (lucky readers that you are!) and hence Lion of Evermore was born, and the story arc concluded. The three books grew organically, as a result of my continued desire to build the story rather than being plotted as a trilogy from the outset. Lion of Evermore concludes with the words 'The End'. But it's not.
If you like something, why stop? Book IV began to unfold, and this time I knew I couldn't restart my original characters on a new journey, it just didn't feel right. They'd told their story. What I needed was a new cast of characters, but from the same stage – witches from Wildwood-coven that we hadn't met before. The trouble was who would they be and how would I introduce them, after all, how is it they weren't mentioned before in all the action? The first solution was to find a 'back door' in the original book, and I'd had one particular back door in mind from the start. Without spoiling the plot, let me elaborate . . . Wildwood-coven faces attack, and its host of witches flee in a small flotilla comprising three boats. The idea was to rendezvous at a determined point and rally survivors. When it came to making this real in the story, I felt that having all three boats reach their destination safely was too snug and lessened the sense of threat. My solution was to 'lose' one of the boats. Two boats reach the rendezvous, while the third boat goes missing, along with her crew. It adds to the drama and sounds more convincing, and even mysterious. I could then get on with writing the rest of Raven's Wand, but unexpectedly I found this missing boat cropping up in my mind like a stone in my shoe. I kept asking myself, 'where's it gone, and what's happened to her crew, and who were they in relation to Kolfinnia – were they friends, peers, mentors, or rivals even?' This unanswered question became my back door, and when book IV came along I knew it was time to answer it.
Book IV is entitled 'Kolfinnia's Coven', and it forms a collection of short stories about Kolfinnia as a girl, growing up at Wildwood. It enabled me to greatly expand upon the witches' world, and their beliefs, traditions, folklore and religion. I had great fun crafting creation myths as well as real life anecdotes from Kolfinnia's early years, and I was also able to resolve the second problem – how to integrate a new cast of characters, with the original ones from Raven's Wand. As Kolfinnia's Coven effectively forms a prequel as well as a collection of tales, I was able to go back and introduce my new players, showing them growing up alongside Kolfinnia, and how they relate to her.
So, meet Freya Albright, as she appears in my illustration. She's the captain of our missing boat, named 'Speedwell', and by the end of Kolfinnia's Coven, we know her, and some of her crew, very well. Well enough in fact to see her take the helm as the new hero of the Dark Raven Chronicles, and at last we'll find out what's become of her and her crew of nine other witches. The result is book V and a different kind of tale to Kolfinnia's. The focus remains on Freya and her crew throughout, and novels aren't afraid to end on a cliffhanger. The tone is darker, and I've crafted new villains and threats, to break new ground and offer the reader a whole other side to the world of Wildwood. Entitled, 'The Journey of Albright's Boat', Freya's series begins with 'Destroying Angel' and introduces the most disturbing and shocking enemies witchcraft has yet seen, it begins to unfold a cosmology of creatures and demigods that show how magic extends not just beyond a coven or a country, but across the stars and planes of reality, life and death. But there's still plenty of room for the intimate human dramas, and the warmth that binds a coven (or crew) together through thick and thin. All of this I owe to that back door, inserted casually into Raven's Wand all those years ago. I never knew then what was waiting behind it, and certainly I never expected to find Freya's story so intense, humourous, terrifying, and so far-reaching.
I'll end this blog with the rather electrifying fact that The Dark Raven Chronicles are littered with back doors. Some of them are there on purpose, while others are hidden even from me, but I'll root them out, and if I find something worth writing on the other side, I'll take you along for the journey. I promise, this is only the beginning . . .