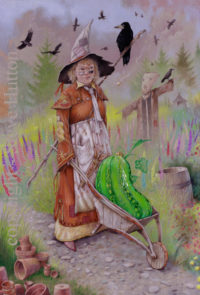 Our chapter-by-chapter review of Raven's Wand continues with chapter four – The Devil at Home
Of all my characters, Samuel Krast has travelled furthest from his roots. To begin with he and his Illuminata kind were far more mystical; they wore robes and their headquarters was a palace-fortress as grand as The Vatican; they went by the name of 'logicians' and observed strict codes and rituals. But consequently the Illuminata grew too remote and overblown, which is why I reworked them and stationed them at Hobbs Ash; a dirty, unused railway station in the heart of London. Now here was a base of operations that the reader could picture and get a sense of, and Krast went from a hooded, quasi-priest, to a severed-suited, cold-hearted but believable man with some major skeletons in his closet. At this point I felt I knew him and could write him convincingly. All it took was a change of clothes and a railway station. Likewise the Illuminata infantry are mostly just 'men doing their jobs' which is always a terrible excuse for doing terrible things, but people only require excuses when they know deep down that they're doing something wrong – minuscule but compelling proof of conscience. Most of Krast's staff, such as the devisers and Knights, are more entrenched in their bigotry, and those that aren't (such as Hathwell) keep tight lipped about it. Krast was originally called Karg, by the way, (which sounds much meaner) until I found out that Dr. Karg's is a popular brand of wholemeal crackers – ah well.
In the same way I deflated Krast and his kind, bringing them a little further down to ground level, I also made sure not to paint Valonia's witches as too spiritual to be true. When Esta Salt leads a magical ceremony on the beach, note how it doesn't go according to plan and all the witches can do is try to see the funny side. I wanted witches to seem humble and credible characters; sometimes they're tired and don't want to say prayers, and sometimes they're fearful and wonder if the dreaming gods they honour give a damn about them or even know they're there? It's in this chapter that one of the witches reveals, to my mind, the most profound lesson about witchcraft in the entire book. It comes from seasoned gardener Ada Crabbe as she's telling Rowan why magic is so powerful and therefore so corrosive to government control. She rightly tells Rowan that humble gardening is the key to freedom, and with a little magic, Ada and other such witches can keep a coven fed and self-sufficient all year round – they have no need to work in mills or factories, and poverty and hunger are unknown to them. 'Fed 'n free', says Ada, 'they'll never make slaves of us, and THAT'S why they hate witches so much.' And she rightly knows that if magic gained widespread acceptance, then none of Britain's working class would be wasting their lives down mines and in factories to keep the ruling classes afloat. There's as much politics as magic in Raven's Wand.
Chapter four is also the first time we see the term 'first-dawn' in a context other than Valonia's personal life. The folders Krast takes to his ministerial meeting are all marked 'first-dawn', and the mystery begins to deepen and grow more sinister, after all, Valonia believes 'first-dawn' is an omen signalling the end of her life. . .