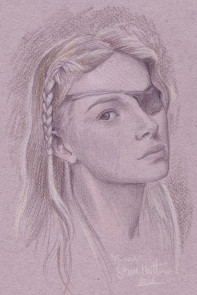 One of my personal favourite characters from The Dark Raven Chronicles doesn't take centre stage often and is easily regarded as a support character, although if she were to vanish, then places like Wildwood-coven would dry up and die. Her skills are crucial to Wildwood's survival and it's no exaggeration to describe her feats of magic as miraculous, and perhaps even holy.
She cannot make herself invisible, topple mountains, or shoot bolts of lightning from her fingertips, but The Illuminata nevertheless regard her brand of magic as deeply subversive, and toxic to their own agenda. Her powers are so profound, yet so fundamental to everyday life, that she is easily overlooked, but for me, Flora embodies the highest values of witchcraft. What good are lightning-bolts and superpowers if at the end of the day you have nothing to eat? Through the grace of the twins, Hethra and Halla, Flora can summon crops in any soil and any season, and turn barren earth into a productive garden in moments. For an organisation like The Illuminata, that control populations and nations through poverty, this is truly a terrifying prospect. Who would toil in the mills and mines to stave off starvation if they could emulate Flora's miracle? Nobody. The foundations of Victoria's Empire would sink into the sand, the pyramid of power would be inverted and the masses set free. All of this a witch like Flora could achieve if her magical skills were shared and spread.
For me, she is a hero of dignity and modesty, neither of which were accidental. Too often, heroes in popular film and fiction win through strength and force, and all too often female heroes have to become like men to achieve their victories. Kolfinnia and Flora take up arms to defend their world, but reluctantly and with consequences, and along the way they may have to take lives. Neither is it accidental that Flora is maimed – who can fail to spot her eye-patch – as when I crafted the character I knew she would be perhaps the most gentle yet most profound of Wildwood's witches, and because cosmic laws are cruel and ironic, I imagined that she would have faced the greatest violence in her short life, because evil always seeks to undermine the greatest goodness. Flora was half-blinded as a girl, as punishment for being born to a witch. Her mother, Roslind, was taken for correctional-blessing, a civilized way to describe interrogation and capital punishment in The Illuminata's world. And so Flora's scars are found both inwardly and outwardly, affecting both flesh and spirit, yet her greatest triumph is to cling to her dignity and humanity despite all that's been taken from her. As the story unfold, Flora's skills prove the lifeblood of her coven, and later, when adapting magic to devise new ways of fighting The Illuminata, Flora's talents veer from growing crops to growing thunder and lightning . . . although it would spoil the surprise if I were to explain how. She might not be a Lycra-clad, kung-fu babe with an attitude (thank Oak!) but Flora packs a punch that can topple empires, and best of all she's modest about her powers and gentle with it – the rarest of blooms.