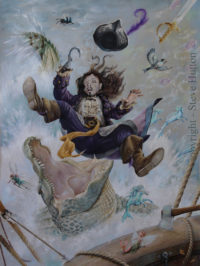 When I illustrated the story of Peter Pan a few years ago, I spent the best part of 10 months working solidly on Peter's world: Neverland. Day after day I'd get out of bed and face hours of intensive work at the drawing board bringing J M Barrie's famous story alive.
I must be one of the very few people who's never seen the Disney version of Pan, and my first real introduction to the story was reading it in readiness for illustrating it. Immediately it struck me that Peter wasn't the youthful hero I'd always imagined, but rather a spoiled and distinctly selfish brat. As the weeks and months dragged by and the portfolio of images grew, I came to dislike Peter more and more, and instead find a growing sympathy with his nemesis – Captain Hook. Hook is the far more interesting and complex character. Peter is often obnoxious because he 'feels like it', while with Hook we glimpse a reason for his fall from grace. And before anyone berates me for my harsh comments about Peter, remember – amongst other things – he tries to shut the window and prevent Wendy and Co returning home so he can keep her forever, and it's only the look of despair on the sleeping Mrs Darling's face that softens his heart. Hook's bitterness stems from his resentment of Peter's bravery (or recklessness to be more accurate – he faces off against a pride of lions just to impress his new friends) and more importantly, his 'cockiness'. That's when Hook and I became partners – I can't stand our new age of arrogance that's replaced modesty, and where those who shout loudest simply must be the best because, well. . . they're the loudest. When Hook attempts to poison Peter's drink, he relents and the better part of him thinks twice, but it's the 'cocky' smile on the sleeping Peter's lips that inflames him again, and so in goes the poison! Sadly – Tinkerbell came along and ruined it all by drinking the poison draught to save Peter's life. (And remember how Tinkerbell encouraged the Lost Boys to shoot Wendy down with an arrow – to kill her and ensure she didn't have a rival for Peter's attention? Twisted, eh?)
When it came to drawing Hook falling into the crocodile's waiting mouth I felt the story had lost its most intriguing character, and to some extent its heart. If my nemesis had been a selfish and arrogant little boy who infuriatingly always got the better of me, I'd have become a twisted villain like Hook too. And so – Captain James Hook, scourge of the cocky everywhere – I salute you!