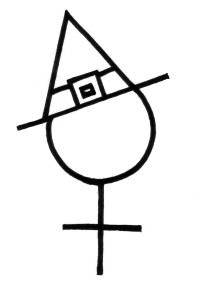 I'll waste no time in disappointing you – this isn't a battle-of-the-sexes type rant. I think a good blog should be insightful rather than inflammatory, although I'll admit that Wildwood's art and writing is weighted towards female characters, and here's why . . .
Years ago when illustrating for children's publishers, I found myself pigeonholed as the bloke who draws monsters. I was fine with this, but I wanted to sharpen my figure drawing skills and have a go at drawing more graceful and ethereal characters. I settled upon 'witches' as a theme, and began a body of personal work. I drew a witch and found it fun, and although it didn't capture the look I had in my mind's eye, I continued. I drew another witch to accompany her, then I thought 'why not draw a whole coven of witches!' I set out to draw 13 characters, but when I'd finished the last one I still wanted to draw. For no real reason, all my witches were wearing blue. 'I know – they can be winter-witches,' I decided. That sparked the idea to theme my coven around the seasons. Now all I needed were 13 spring-witches, 13 summer-witches and so on, to make a total of 52. Now I had one character for each week of the year. This took up many months of my time and a hell of a lot of pencils, and by the end of it the later ones outshone the early ones as my figure drawing abilities increased. And so guess what – I binned all of them and started again, not out of frustration, but a sense of discovery. I was drawing things I never knew I could draw and steadily achieving the results I wanted, and the feeling was very empowering.
I invented a name for each character and a gave them a paragraph about their back story. Inevitably these story fragments snowballed into a larger narrative and Wildwood was born. But something changed. As the drawings became more realistic, the back story I'd given each character began to feel too flimsy and twee and it jarred with the imagery. I took stock and decided to research witchcraft. All I can say is those women (and a few men) suffered terribly. The atrocities committed against them shows humanity at its most base and vile, but one account stayed with me. For the crime of midwifery one woman was tried as a witch and burned alive, the reason being that God's punishment against Eve for deceiving Adam was to make childbirth a painful and risky experience for all women. Therefore, anyone assisting a woman in labour and trying to ease her pain was acting against God. (It's tempting to dismiss this as dark-ages barbarism, but similar punishments based on similarly twisted logic are still dispensed around the world to this day). With this in mind, could I really have Wildwood as a 'Hogwarts' clone, I asked myself? I knew then that I wanted Wildwood to be my own simple tribute to these women. The story behind the images instantly became darker, more political and complex, just like the illustrations themselves.
Wildwood's witches are brave, honest and surprisingly ordinary women despite their knack for magic. And guess what – a good number of them are skilled midwives too, even if God disapproves . . .