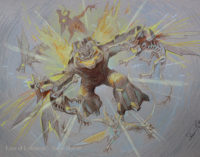 One of the great joys of writing is the freedom to reinvent traditional themes. In Raven's Wand we meet witches for the first time, and instead of the ugly crones of propaganda we find that witchcraft is a peaceful faith, and its followers include men, women and children alike. Also, out go flying broomsticks and in come lightning-staffs and thunder-sprites. For me, reinvention is a cornerstone of fantasy art and writing. Why should every dragon look the same? Fairies get the same treatment. Out go fairies as mischievous magical folk, and in come animalistic nature spirits who escort the dead to Evermore.
Fairies take a lead role in the final novel of the series, Lion of Evermore (published this autumn). This test-sketch shows a scene from the book's climactic battle – when entire fairy nations have to fight for survival against a vast plague of their infected kin. Morgus is not just a magma-fairy, but the leader of his nation, and he battles valiantly against a horde of infected iron-fairies.
He's certainly more than just a big fairy, but is even Morgus strong enough to stop the iron infection . . ?