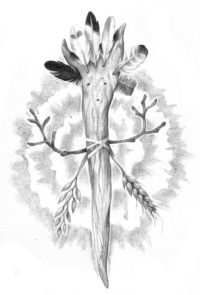 The chapter-by-chapter insight into Raven's Wand continues. This week, chapter three 'Way-beware', and we take a look at names. . .
'Kolfinnia'. This is a rare variant of a little-known Scandinavian girl's name that I found in a book of baby names from a bargain bookshop. I chose it because I liked the sound of it and also because I liked the shape the word made on the page. As to its meaning, one source said it meant 'white', while another claimed it referred to coal and therefore black. Either way Kolfinnia has a lot of light and dark in her life.
Kolfinnia's the glue that holds the story together and so she had to be an every(wo)man character that the reader can relate to. She's almost eighteen and worried about her future. I remember leaving full-time education and having to find work in the 'real world' at last, and I think Kolfinnia faces something similar but more extreme; she isn't job-hunting but avoiding capture and execution, but both feel just as stressful sometimes. Originally Kolfinnia was the grand, old coven matriarch (which became Valonia) and she was recounting her youth and adventures with Raven's Wand from the vantage point of old age. . . but the split time periods (young Kolfinnia in early Victorian Britain, old Kolfinnia in the late 1800s) seemed too cumbersome and ultimately pointless. So I split the character in two, keeping Kolfinnia as the young woman we know and creating Valonia to take the role of the coven's chief – but they began life as the same woman!
That Valonia originally came from Iceland is due to my numerous trips there, meaning I could write about the place with conviction. Valonia, by the way, is an Anglo-Saxon name meaning 'from the valley', and if anyone out there knows of a different meaning please keep it to yourself! I also owe thanks here to the Museum of Witchcraft and Sorcery in Holmavik, Iceland. It was in this charming museum that I learned of Iceland's own brand of witch trials in the middle ages, and that oddly, most witches were men; there was no mention of wizards or warlocks etc, and this in turn gave me the idea to call anyone who holds faith in magic 'a witch', with no gender distinctions. (Check out the museum's revolting 'Necropants', you won't be disappointed).
I like to have real places in mind when I write, just to anchor them. Wildwood-coven's Appelier Bay is based upon Morecambe Bay where Lancashire meets the Lake District, and I think Flora's adventures on the Bay's treacherous quicksands will have tipped off a few sharp-eyed readers. Most of the place names are made up; Chertfield, Rothwaite, Leadchester and Thornlee were all plucked from the air and if these towns do exist then I hope their inhabitants don't mind ending up in my book by accident. Other place names are real, of course, and sprinkling the real next to the assumed helps create an air of credibility. To this end I compiled long lists of names, both personal and places, and draughted a short profile for every one of the fifty-two witches at Wildwood, whether we meet them or not, and that includes the name of their thunder-sprite, and I also drew all fifty-two of them, so I could 'see' who they were. Actually, I drew them twice – as my drawings went from the children's style I'd practised previously and became more realistic, I discarded the earlier drawings and re-drew them, learning along the way. This is the depth of commitment and complexity I invested in Raven's Wand and subsequent novels because I wanted it to be 'right', and I hope readers find this dedications adds to their enjoyment of the story.