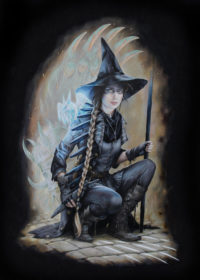 Unusually, this blog is written not by me, but someone else . . . many thanks to Jo Simpson for her review of 'Flowers of Fate' the second novel in the Dark Raven Chronicles series. I'll let her speak from now on . . .
Powerful, compelling, adrenaline fuelled story. 'Flowers of Fate' is the second volume in the series of the Dark Raven Chronicles and is another book of excellence! Sunday's fate has been re-weaved, redemption commences and a sea of emotions is imminent for her and her friends (and us as readers…ahem) as she embarks on a gruelling mission.
Sunday encounters many terrible places, nasty characters and awful atrocities on her journey. However, in between these intense moments there is humour and she develops special friendships which adds warmth and positive encouragement. Even through the sorrow, you will not be able to stop reading it, because it is so well written with hidden meanings and messages which make you think more deeply. You will feel like your soul has been hypnotised by the book itself and be entranced (like a Berserk!), willing good triumphs to conquer evil and making spells of your own.
As with the first book (Raven's Wand) I was fascinated with each of the character's personalities. The behaviours, powers or secrets they each had created even more intrigue and suspense. I am still searching for my own thunder-sprite too but they are in hiding… understandably. There is a clever use of symbolism in the story and the authors excellent descriptions create stunning pictures in the readers own mind, even before seeing the wonderful illustrations that go along side the books. Sunday's character is determined and brave with a strong desire to overcome battles including one within her own mind and the destructive minds of others…. An awe inspiring witch on a quest for peace and for justice to prevail. A magnificent book of Mysticism, Magic and Mystery!