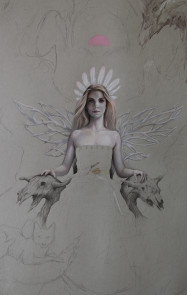 New artwork on the go – Sunday Flowers. Those who've read Raven's Wand will know that Sunday is one of the main characters. We meet her at different points in her story-arc and see different aspects of her along the way, and although I can't expand too much on what those aspects are without spoiling the plot, it's fair to say that during Raven's Wand we never really see Sunday as she ought to be – the solstice queen of Regal-Fox coven.
She boasts of being 'a witch of high rank', but what her duties as solstice queen might be we never find out fully. This wasn't an oversight on my part, it's just that Sunday's background needed just a basic outline, otherwise it would have clogged up the flow of the story. In this illustration, I've decided to give Sunday a little of the 'regal' treatment that she believes magical practitioners deserve, and I've imagined her at Regal-Fox coven (before Krast's Knights come along, of course) doing what she does best – being the centre of attention. The picture also hints at what her 'solstice queen' duties involve. Sunday's association with the summer solstice is well documented, but I wanted to draw her on the winter solstice, welcoming back the sun after its long sleep, which for me personally is a far better reason to celebrate that the height of summer. Knowing the long winter nights are slowing ebbing is like letting out a huge gasp of relief! Sunday sits directly under the rising sun on December 21st, and she's been there all night enduring the cold and meditating on this critical day of the year, because while magic might be regal, it's also bloody hard. The whole coven will gather to see the sun rise as if from her crown of swan feathers, and as it does she becomes the living conduit between heaven and earth. Very regal.
Because this is a frosty December morning, I've included a lot of grey tones in her skin and hair, and the background will be likewise subdued. There were two ways to go about depicting her costume as far as I could see; one was to make it very showy, the other was to play it down and make it very simple, and that's the look I've gone for. Our eyes should be on her, not what she's wearing. When finished, we'll see her attendants (a pair of foxes) and perhaps her thunder-sprite, Strike, and I hope the overall impact will be profoundly regal, just as Sunday would want. More to come . . .