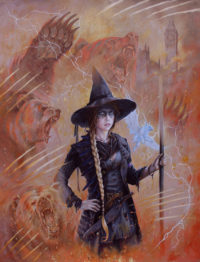 Chapter Eight – Sunday Flowers
The chapter-by-chapter insight into Raven's Wand continues this week with chapter eight: Sunday Flowers
Sunday Flowers of Regal-Fox coven was once Sunday Flowers of Badger-Kings coven, and going back further she was merely Valonia's adolescent handmaiden at Wildwood. I gave her the prettiest name I could think of to contrast with her glacial manner, but as Sunday grew from a hard little seed into a lush yet thorny rosebush, her character seemed more the queen than the handmaiden, and more the fox than the badger. Clearly she needed her own coven and her own story, such was her presence. Now I know that many dislike Sunday, which is understandable, but this dislike seems to blind people to her wider role in the book and the true scope of her character. Although arrogant, she believes that her appearance reflects the majesty of the serpent twins, and as their emissary she holds that she is duty-bound to carry herself with dignity and be regal. Trivia fact: Sunday has a younger half-sister called Summer Flowers.
(**SPOILER ALERT**) Love her or loathe her, readers owe Sunday a huge debt. Hers was the first story I plotted; a lone witch allied with a trio of invincible berserker warriors takes on the Illuminata and their demons of Ruination. Cue darkness, slaughter, destruction and battle! But the story (my twisted take on Goldilocks and the Three Bears) demanded such focus that I wasn't sure how to cram in all the crucial world-building needed for a first novel alongside it. My solution was to write a prequel first – which of course is Raven's Wand – so 'The Three Bears' story could really fly when it was unleashed. I always knew who Sunday was and what she was capable of, and so I was always on her side, even when she was obnoxious. Give her your sympathy and patience, and think how different things would have been without her. . .
'Jik'. The word crops up frequently and it is of course a derogatory word for a witch, abbreviated from the last syllable of 'magic' and spelled 'Jik'. It's akin to some of the derogatory names in our own society, ones that if I even typed would result in a rush of complaints. Few wield the insult Jik as well as Warden Moore (you'll meet him later). The man was born to swear.
And no story about witches would be complete without a mandrake, although the one that Valonia and Hilda find at the end of the chapter is a bit on the frisky side. . . Here's another example of using humour to endear the characters to the reader, so they'll want to be there with them at Wildwood, and when danger looms they really feel anxious for them.