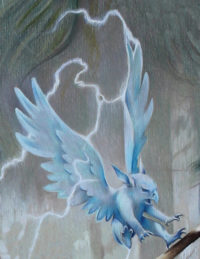 Sprite Sense – Part II
A warm welcome to all of those just discovering Raven's Wand! Readers frequently tell me how much they adore thunder-sprites, and so I thought I'd post a series of short articles about these wild but popular creatures. Tonight we look at Lifespan, Distribution and Flight. More to follow – enjoy!
A closer look at the world of thunder-sprites . . . LIFESPAN
Witches and thunder-sprites have partnered up for untold thousands of years. They remain a pair from the day the witch finds a thunder-sprite and proves their worth, until either the witch dies or their lightning-staff is broken. Breaking a staff is never deliberate, as no witch would wish to be parted from their sprite, this only happens by accident or in battle. Sprites then return to the thunder-heights and their Lord, Silver-fist, where they become part of the endless cycle of rain and storm once again. They might be born again as another bolt in another place, but with a new name and likely no memory of their former life or witch. Although covens are found in all corners of the world, sometimes lightning strikes in very remote places, and the sprite will go his whole life and never see a human, let alone a witch. In these instances, he will live happily inside his tree until the day it dies, which could be many centuries, or just days if the lightning-bolt was too severe, but the line between a living tree and a dead tree is surprisingly fuzzy . . . When the tree is nothing but rotten mulch, it can be clearly argued as being 'dead', but some trees are cut for timber to make furniture and houses, and they can last for many centuries after the tree was felled – as can any sprite still living inside them. Skald and his fellows speak fondly of one such sprite, named Torn. No witch came to claim him, and eventually his tree was felled to make a large four-poster bed for a grand hall. Sleepers in that bed often woke in the middle of the night screaming in terror, claiming an 'imp' had been scuttling through the canopy. Torn might not have found a witch, but he kept his sense of humour!
A closer look at the world of thunder-sprites . . . DISTRIBUTION
When Clovis crossed the star-sea to come to Kolfinnia's aid, he (not surprisingly) had a lightning-staff and thunder-sprite of his own, named Torrent. Torrent lived by the same laws, and even spoke the same language as thunder-sprites here on Earth, even though he was from light-years away. He even looked identical, although his feathers were more emerald than sapphire. Here on Earth, animals quickly evolve into subspecies if separated by only a short distance, so how can creatures from light-years apart be so similar? The answer is that thunder-sprites are born from natural laws that are universal – the power of storms and lightning. There's lightning on Jupiter just as there is on Earth and it obeys the same laws of physics. Torrent might be from a long way away, but in every sense he is a brother to Skald and every sprite on Earth. The only difference is that on Torrent's world (which for the record is Vega), the thunder-heights are commanded, not by Silver-fist, but by a different Lord. In thunder-sprite legends, these Lords were always journeying to other worlds to meet strange creatures and even visit their sleeping dragons, just like Hethra and Halla.
A closer look at the world of thunder-sprites . . . FLIGHT
The reason witches and sprites originally formed working partnerships is one of those stories that's so old nobody can get to the truth of it, although it seems every coven has its own legend explaining the origin of the witch/sprite union. One theme that remains common in every legend however, is the sprite's love of flight. According to thunder-sprites, there's nothing like the initial rush of streaking down from a thunderhead at supersonic speed, burning hotter than the sun's surface, and then crashing into the earth below. It is the ultimate thrill ride. Sadly, for such action-loving creatures, if they strike a tree they're committed to living in that tree until the day it dies (unless of course the bolt kills it), and that could be many, many years. Working with witches allows the sprite a chance to escape the confines of their tree and fly frequently, and gives a witch an invaluable ally and a magical tool in the form of a lightning-staff. Thankfully for sprites, the witches that come looking for them are at that pre-adolescent age where they feel ready for anything, and are only too happy to fly hard and fast. Some things never change . . .