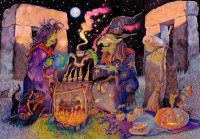 As I write, it's coming around to that tedious time of the year again, when millions of innocent squashes will be sacrificed in the name of 'trick or treat.'
Forget for a moment the galling fact that until the 70's this tradition was unknown in Britain, (I blame John Carpenter's film 'Halloween' for the spread of this begging bonanza) and put aside the sheer irritation of strange children banging on the door demanding bagfuls of boiled offal laced with E numbers masquerading as 'sweets'. No. For me the most depressing and infuriating aspect of Halloween is the barefaced hypocrisy.
The issue of race has become something of a minefield, but rather than keeping the enemy of prejudice out and fostering respect, this minefield just creates more tension. Say the wrong word, in all innocence even, and you might find yourself looking for a new job. Prejudice doesn't go away – it just retreats into the shadows. And yet what do we see in our high street shops in the weeks running up to October 31st each and every year?
I'll give you a clue – they fall into two distinct types. One has green skin, tombstone teeth, weeping boils, hair dripping with chip fat and a fishhook nose. The other kind is a temptress sitting on a pantomime broom in such a way that her fishnet stockings are showing and the tiny hammock that is her bra is struggling to restrain its load, and chances are she'll be wearing six-inch stilettos, black and nothing but black.
As a recognised belief-system like any other, it's an enormous credit to modern day pagans and Wiccans that they tolerate this abuse. As far as I know, witches aren't famed for murdering their critics or demanding Tescos remove their racist, Halloween propaganda . . . and don't get me started on 'Christmas'.
So a big 'thanks!' to all those happy-go-lucky pagans and witches out there for shrugging it off with dignity and a smile, we could all learn a lot from you. To quote Homer Simpson – 'God bless those pagans!'