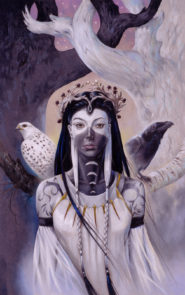 As I write, the summer solstice isn't far off (well, for those of us in the northern hemisphere) and although all the celebration around this festival points to light and energy, I personally can't help but start to think of the darker nights. 'Tomorrow, the daylight will be a fraction shorter,' I tell myself. It isn't as gloomy as it sounds, because on December 21st I always begin to think the opposite; 'tomorrow there's a fraction more light!' I think this even when it's still dark at 4pm and the weather is locked into days and days of endless rain (I say rain because it seems to snow very little here in the UK anymore).
In honour of the solstice I drew this illustration entitled 'Night and Day'. The young woman in the picture is of course a witch, but her striking look is only intended for the big day itself, and she won't get up every morning of the year and spend hours applying her ceremonial face paint. I like to think of the witches I write about as being practical, humble and very down to earth. Drawing faces is challenging but always rewarding – when they come out right – and on occasion I'm lucky enough to work one-to-one with art students. Recently I was working with one GCSE student, strengthening her figure drawing skills, and we moved onto faces and portraits. Rather than draw with a pencil, I broke out the oil paints and chunky brushes and we had fun painting all the blocks of colour that comprise a human face. My own approach has become totally instinctive over the years, and I don't stop to think consciously about how I go about drawing or painting a face, but with someone sat beside you and watching your every move, you suddenly have to justify every dab of the brush or squeeze of the tube.
I think I surprised my fellow painter when I started adding greens and blues to the flesh tones, and talked of 'warming colours up and cooling them down'. In fact, hearing it aloud I even surprised myself. There are no such things as 'black people' or 'white people', and nobody's skin tone remains the same throughout the day. The way the light plays across a face, or the way surrounding objects influence colour all change what the viewer sees. As we get older our faces change (usually not for the better!) and we accept this without question, but we stubbornly stick to the idea that our skin can only be one colour. As an artist I find this merely amusing, but from a social-political viewpoint it becomes very divisive.
So, when the summer solstice rolls around in a week's time, remember those miserable sods like myself, who start to brood over the dark nights ahead, and remember it's not all light and happiness, just as the wider world isn't black and white – even though things would be simpler if it were. On June 22nd, our witch will scrub away her striking face paint and go back to having skin that is wonderfully but subtly multicoloured, but only if you learn to see it right. . .