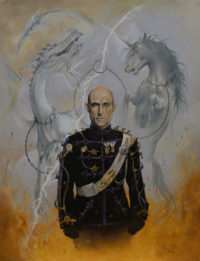 Something the Dalai Lama said long ago stays with me – that every human soul, regardless of nationality, culture or gender, seeks to live a life of happiness, free of suffering. And he's right. What people define as 'happiness' is wildly variable, however. Some find their 'happiness' only through material riches or domination of others. When this is the case it's easy to see that what they're seeking isn't really happiness at all, but the alleviation of their own fears, jealousies or insecurities – which in turn makes them feel better – which in turn conveys a twisted sense of 'contentment'. See how easy it is to cause mayhem in the name of happiness? This doesn't undermine the Dalai Lama's wisdom but it does give a startling insight into human behaviour.
When I write my characters I ask myself, 'what's this character after – how do they find their contentment, and what lengths are they prepared to go to?' With characters of high morality it's easy. Kolfinnia's happiness is knowing Wildwood-coven will always be her home. Valonia's happiness is seeing her witches thrive. Moral characters have the shortest and most direct routes to happiness. Then there are 'grey' characters such as Hathwell, whose 'happiness' is the challenge to find his courage and make amends for serving an organization he doesn't fully believe in, but having aided their crimes.
Beyond 'grey' characters we have the true villains, usually surrounded by a host of 'greys' who excuse their actions as merely 'following orders'. True villains require perhaps the most sensitive writing of all. Their route to happiness is often very convoluted and troubled, although this won't show on the surface.
Of the three chief villains of The Dark Raven Chronicles – Samuel Krast, Victor Thorpe, and Sef – each of them is plainly destructive and immoral, but look closely and you'll see the real tragedy; there is redemption waiting below the surface. These villains might be immoral, but not amoral. They know that their actions destroy the sacred quest for happiness in others – and very rarely the reader will see them struggle with this. It might be just one sentence amongst hundreds of pages, such as Victor Thorpe's brief twinge of conscience in Flowers of Fate, but it is there . . . and for those readers who've enjoyed Victor's company and wonder where this devil's moral moment went to, look carefully at his initial reaction to the terrible choice laid before him by his bullying grandfather, Barlow . . .
When the pitch-black of a villainy is garnished with a speck of white or grey, it provides the reader a toehold – something that they can identify with in an otherwise alien and opposing mindset. If done right, we might end up actually developing some empathy with our villain (I only say some empathy, not a whole lorry-load!).
Lion of Evermore will be published later this year, in the autumn. Sef takes the role of chief villain, and although the pages and strewn with his depravities, always remember that all he is seeking is a state of 'happiness' – just as we all are.