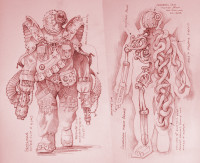 Inventing the kinds of spells used by Dark Raven's witches was good fun. I really wanted each character to boast a different skill. This is useful from a writer's perspective as it marks each character in the reader's mind and helps differentiate them, but also it gave me the chance to create my very own magical skills. I say 'magical skills' rather than 'spells' because once I've described how Kolfinnia can commune with trees for instance, there's no need to repeat an incantation or spell every time she works her magic – it's just something she does. Readers might also have noticed the lack of spoken spells throughout the story, (in fact, I think there's only one instance where we overhear a witch reciting a spell; when Kolfinnia's at the river, trying to topple the Knights) this is because I find magic spells a bit hackneyed in story terms and because my rhyming isn't that poetic! Plotting what witch had what skill was very satisfying, but no matter how fantastical their skills I always rooted them in a logical approach. Flora can raise crops in moments because it's crucial to self-sufficiency, and Kolfinnia couldn't have recruited trees to their battle without her skill of reading woodgrain. It's magic – but it's also logic.
I took the same approach with 'devisers', witches' dark Illuminata counterparts, and I've had no less fun inventing their twisted view of magic too. The term, 'black magic' has become such a cliché that it's difficult to employ in a literary sense because readers will instantly think of The Devil etc. I've shied away from using the term 'black magic' all the way through the Dark Raven Chronicles for this very reason, and because I feel it's derogatory to true witchcraft. That said, devisers do use magic, and their aims are always wicked, or at least their victims would say so. Deviser magic is the antithesis of true witchcraft because it exploits powerful natural forces for the practitioner's sole benefit, regardless of the harm it causes to others. If a witch wanted to study nature, they would stand back and observe without intrusion – a deviser would imprison nature and dissect it. This to me is true 'black magic', and not a forked tail or cloven hoof in sight. Devisers' handiwork is evident throughout Raven's Wand; they inspired the first-dawn experiment and engineered the chromosite interrogation creatures. Without their devisers, the Illuminata's Knights and Lords would be armed only with sticks and stones.
Here's a test sketch for a new deviser horror from a later Dark Raven novel. Here I've sketched up a drone-scout called a 'signalman'. Remember – devisers are hostile to rival Illuminata bloodlines as much as witches, and their inventions might equally target enemy knights as much as witches. The signalman looks like it means business to anyone that gets in its way, both from a writing point of view and an illustration one, but it also has to adhere to a twisted deviser-logic. From its cross-section we see a metal skeleton inside, but what's the power source? Wrapped around the steel, sealed in a pressure suit filled with nutrient-fluids, writhe hundreds of engineered eels – of the electric variety. Remember, this is the late 19th century and the world is just waking up to the potential of electricity. Devisers have converted living creatures into a bio-electrical circuit providing the locomotive power. The signalman's 'brain' is no less cunning. A copper orb is shrouded in a cerebral membrane cloned directly from the deviser controlling the scout. Through a short-range telepathic link, the deviser, who is safely tucked away in a bunker, inhabits the signalman and puts those unfeeling robotic arms and legs to very good (or bad) use. It's twisted, but there's a crazy logic to it that's plausible enough to carry the reader along.
As The Dark Raven Chronicles continue to unfold we'll see more of deviser society and how it fits the hierarchy of the Illuminata and how sometimes it comes into conflict with it. Raven's Wand might have started the story with a bang, but it really only scratches the surface. I look forward to unleashing new magic upon readers over the coming months and years.