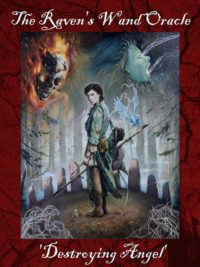 Spring 2018 sees Raven's Wand published as a deck of oracle cards, lavishly illustrated with characters from the book and with exclusively written meanings. Week by week, I'll post my thoughts and comments on the forthcoming cards. This week – 'Destroying Angel'
Destroying Angel is the first novel in the successor series to Raven's Wand, and tells the story of Freya Albright's boat-full of witches that fled Wildwood-coven, but subsequently vanished . . .
I wanted Freya's story to remain part of the Raven's Wand world and its Victorian setting, but still to have its own unique feel. Freya and her crew of nine are a tight-knit bunch, and their camaraderie is as often touching as it is earthy and amusing – and it needs to be considering what they face. Paying homage to a favourite of mine, Beowulf, the first story sees a remote northern outpost under siege from a powerful and destructive entity. This creature came not from a dark cave or the depths of an icy lake however, but from the blackness between the stars – in fact it is the blackness between the stars. A tale of isolation, suspense and deception unfolds, as the tiny mining town of Lokk bars the gates, and looks to a rabble of unknown soldiers to protect them from they believe is the Devil himself, but they find other allies too. It's here that Freya and her crew prove their worth when they're forced to fight alongside Illuminata mercenaries in an attempt to defeat an entity as old as the universe and as desolate as the vacuum of space.
I had a lot of fun with Destroying Angel, despite its dark tone and (gosh!) a sex scene or two (I told you it was different to Raven's Wand!) and whereas characters take their turn in the spotlight in Raven's Wand and its sequels, the focus remains on Freya and her crew throughout this new series. In doing so, I've been surprised by just how protective I've become of Freya & Co, as if they're family. When they laugh I laugh with them, and when they're in danger I'm anxious for them, but they do have a mysterious (and often stern) guide and protector . . . he's dead, but that doesn't cramp his style, and while he's not known for his sense of humour, it's thanks to him that a certain 'Clovis' found a certain door marked 'Rowan', and if he hadn't, well, Raven's Wand might have had a totally different ending. You'll have to wait and see . . .