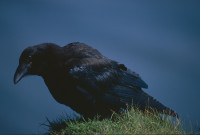 The most intriguing character of all the Wildwood novels never speaks and isn't really alive, at least not in the way we'd understand, yet it's always there in the background, guiding our way like a compass needle. We might even come to take it for granted in the same way we seldom question the ground beneath our feet, but that's only proof of its reliability.
During the trilogy of books the spotlight shifts from character to character. Kolfinnia might take centre stage in book 1, but then the focus moves onto other characters (can't say without giving the plot away!) and back to the familiar faces we began with. If asked, I'd struggle to name one character that's a key player in all three books other than this mysterious and often mute 'compass needle'. I speak of course of Valonia's wand – hrafn-dimmu, or Dark Raven if you prefer its English name. The wand is passed from keeper to keeper through the books like a baton and you can be sure that wherever it is the action's not far behind. Dark Raven is a constant, much like its flesh and blood counterparts.
Raven's have featured in folklore and mythology for as long as people have walked the Earth. We're fascinated by their keen intelligence, and often resent it. We heap macabre reputations upon them for their love of carrion, forgetting who it was that littered the battlefields with bodies in the first place. Their indigo-black plumage reminds us of the dark, and how we still fear it. But Valonia's wand isn't named for any of these qualities. My lasting memory of ravens – real ravens that is – if of their always being there. Just like Valonia's wand, they're a constant.
Hiking through the Arctic you begin to feel like the last person on Earth. You begin to wonder at the sheer brutality of the landscape, and how could anything scrape a living here. And then you hear a raven's call ring out. You look up and see not one but two, gliding and tumbling without a care, as if this desolation was Eden itself, and suddenly there's another heartbeat in this rocky nothingness and you smile to yourself, knowing that you're not alone. Raven's pair for life and live many years. Their acrobatics and vocal range are incredible. Stay put long enough and they'll come to investigate, and you know you're being scanned with eyes that are almost unearthly. Call out to them as their soar overhead, and if you're lucky they'll reply with a sound not unlike a tuneful 'gulp', and a dip of their wings.
But I'm under no romantic delusions.
Years ago I saw a raven carry off a black-back gull's chick with the parent in hot pursuit. Life is harsh. You might be snatched from the nest and devoured at just a day old. It's tempting to see animals as symbols of wisdom, indeed many people who accept that they have a spirit guide name the raven as their protector. The same goes for wolves, bears and eagles (I've yet to meet someone who's spirit guide is a rabbit or a goldfish). I also know that if I died in those frozen wastes, those ravens would be on my carcass in a shot, probably bickering over who gets the tastiest eyeball. It's that honesty that I admire. Nature is often hard but it's always honest. Unlike people, you always know where you stand with animals, and when it came to picking a name for Valonia's wand I had this honesty and reliability in mind.
Ravens I salute you! And if I keel over in those barren wastes one day and go to that great tent in the sky, I can't think of a better use for my bedraggled body than to raise the next generation of dark ravens.