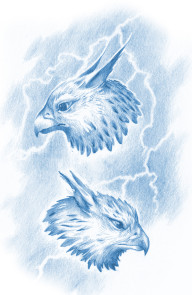 One of the most popular character-types of The Dark Raven Chronicles turns out to be thunder-sprites, and so I thought I'd post a few words on these sparky little creatures.
Witches fly. It's written in stone, so I couldn't get away from it, but neither did I want to. What I did want to distance my story from was the concept of 'flying broomsticks'. I can't express my dissatisfaction at these things without impacting on other popular fantasy serials and ultimately sounding as if I'm being critical. I promise you I'm not, but I remain steadfast in my conviction that as a narrative device, flying broomsticks are common to the point of exhaustion and also present a massive missed opportunity. So often in fantasy fiction things happen 'by magic'. End of story. I'm more interested in exploring the logic behind the magic, even if it's fantasy-logic, and here I could really let my imagination run wild – what exactly is the magic that allows a stick, or staff, call it what you will, fly?
Years ago, living in the Yorkshire Pennines, the road to my house was steep and rocky. At one bend there was a small but tortured-looking oak tree. We dubbed it 'ye old thunder tree', because it looked like it had suffered a lightning blow, although I doubt it had. It got me thinking about the elemental forces that might have briefly touched it, and had they altered it in someway, other than splitting wood asunder? In channeling the storm's energy, had the tree been left with a permanent resident, a fragment of the storm so to speak? It was easy for me to imagine that the answer was 'yes', and that lightning trees have a different energy to other trees. I tucked this obscure revelation away at the back of my mind, until one day I found it again and thanked my lucky stars for now having swept it out along with all the other clutter. My witches needed to fly, and what better than a branch from a lightning-tree, and what better than to call it a 'lightning-staff'! It sounded magical but credible, and it offered the reader a fresh take on a well-known theme. After that, the flood gates opened. I came up with 'thunder-sprites' to embody the tree's storm force, and let them have fabulously rambling names to celebrate the storms they'd come from. Kolfinnia's thunder-sprite is called 'Gales-Howl-Over-Stormy-Waters', or 'Gale' for short. I invented scores of sprites names, many of which are never even mentioned in full, but they're there, such is the detail in The Dark Raven Chronicles. One of my favourites is 'Jump-The-Cross', named for a bolt of lightning that struck a church spire, rebounded into the graveyard below and hit a holly tree, (lightning-staffs made from holly are very rare, by the way). Although Jump-The-Cross is yet to have his day, (the name's never been used in any of the DRC novels so far) creating these names and their stories was a pleasure. Note I say 'his day'. I deliberately made all thunder-sprites male, as decreed by magical law. As they are born where father-thunder touches mother-earth, I saw no need for messy things like gender, hormones or reproduction getting in the way of the action. Thunder-sprites are blokes – they like wrecking things. Enough said. There was another reason I made sprites male, and that's because the cast of witches in Raven's Wand are mostly female, although a few male witches take supporting roles. The combination of witch and sprite made sure that any witch in the story had some other character to bounce their thoughts and dialogue off, and provides and nice contrast between female intuition and male logic. A thunder-sprite isn't a pet, but an equal, an ally and a friend. Witch and sprite share a very deep bond, and the sprite's contract upon this Earth lasts until the day the staff is broken or the witch dies. Suffices to say, for a witch, breaking their staff and losing their thunder-sprite is no less devastating than the death of a loved one. Also, sprites don't remain incorporeal within their staffs, but appear regularly to bicker and banter with their witches and other sprites. When they do appear we see them as striking raven-sized creatures similar to small primates, but winged and covered with blue feathers and bearing hawk-like heads. Sprites have a sweet tooth and can't resist a pinecone sticky with sap. They have their own culture and social structure in the thunder-heights above, ruled over by their great Lord, Silver-fist, who's as old as the Earth itself. Sprites are loyal but have little patience for self pity, and they'll give their witch a kick up the rear if they think they're slacking or failing to live up to the high moral code of witchcraft. As the action racks up in Raven's Wand, the witches soon find that their staffs aren't just handy for flying, but they prove powerful weapons when pitted against the Illuminata's giant kraken steam-suited Knights. And lastly there's the sheer thrill of flying, and not on some inanimate shaft of wood with bristles at the end, but flying in unison with a friend and a powerful natural force.
Or we could just throw all of this away and say that witches fly simply by 'magic'. I know what I prefer.