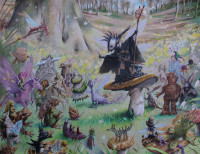 This illustration is entitled 'A Fairy's Tale'. In it, master-storyteller Chikabok entrances a gathering of woodland folk with a vivid tale. The gathering comprises a fantastical array of creatures, including keddy-potts, drummon-toadies, snap-dragons, slug-fairies, baby mountains and potato men, as well as Chikabok himself, who is clearly a magpie-fairy. Confused? You need not be . . .
Within The Dark Raven Chronicles, witches have their own customs and of course their own traditional tales. We might grow up knowing certain popular nursery rhymes, and it's the same with children growing up in covens. All of the amazing creatures I've just described are familiar enough to young witches. I've always loved the idea of a story within a story, yet I never found the right place for it in Raven's Wand. Instead, we're afforded just hints and glimpses of the rich world that lies behind a coven like Wildwood. I wanted to include these traditional witches' stories, but the pacing of the novel never really allowed it. Richard Adam's included two or three of the rabbits' folktales in Watership Down. (I've written a full blog on this, one of my favourite books, here on this website, entitled 'Black Rabbits and Terrible Generals'). What I will say again, is how effective these small inclusions are at expanding any fictional world. It's like peeping at the cogs that drive the hands on the clock.
For those who've read Raven's Wand, or are reading it, keep an eye out for the following; Wildwood's chief witch Valonia, on rare occasions calls her bright young student Kolfinnia, 'Little Wolf Mother'. This isn't just a throwaway remark. There's a whole story behind it entitled 'Wolves in the Stars', which tells how in the distant past, a cosmic monster tried to devour the Earth, and was stopped by one particularly brave witch named Luna, and a vast pack of wolves led by wolf-mother Fen. It's a real story, in the sense that it exists complete and ready to read, and it directly integrates with everything about The Dark Raven Chronicles, and explains why Kolfinnia earned the nickname Little Wolf Mother. Interesting, isn't it?
There is another, perhaps even more potent example of a hidden story with Raven's Wand. I think it crops up just twice, and always in a sombre context, but look carefully and you'll hear Skald, Valonia's thunder-sprite quote the phrase, 'If need of witches be so great'. He's not being melodramatic – he's quoting a pact made by his own Lord long ago, and which directly relates to his partnership with Valonia. 'If need of witches be so great'. What does it really mean? Again, the story to explain this vague but ultimately critical pact, entitled 'A Witch's Best Friend', exists and is ready to read, and in doing so we also learn something very special about Skald.
I hope that eventually all of these short stories will become available, but like fractals, the deeper we look the more detail we see, and I wouldn't be surprised to find a story within a story within a story . . .