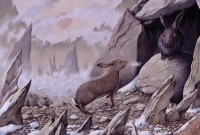 Explore the Wildwood novels and you'll find a world of writing just as rich as the illustrations, and if I have one book to thank for that it would be Watership Down by Richard Adams. Easily my favourite book, I first read it at the age of twelve or thirteen and I remember that feeling of reaching the book's end and reemerging into the real world, of looking around at my familiar surroundings and finding them so drab and disappointing in comparison to the characters I'd just left behind.
As the story unfolds we learn of the rabbits' own unique creation myths and folklore, and of their deities and beliefs surrounding life and death. Throughout, Adam's remains honest to his characters' animal nature. This is as far from Disney as you can get – these rabbits live a world where death might strike any moment, while the urge to reproduce or face destruction is a major plot engine. They have their own hierarchy and social rules, fights are bloody and desperate, indeed, the moment Bigwig faces off against the terrible General Woundwort still makes my flesh tingle.
It's not just Richard Adam's effortless storytelling and command of language that stand out, but the mythology he created for the rabbits, which for me is every bit as immersive as anything Tolkien produced. In this respect I owe him a great debt. The witches of Wildwood have far more to tell than the book's length allows and I typed the last line feeling we had only glimpsed their world, despite spending three novels with them.
'Kolfinnia's Coven' became a collection of short stories and effectively the fourth book. It offers the chance to meet some new characters who'll be the focus of a new series that I'm working on, but also going back to Kolfinnia's childhood at Wildwood-coven. A young Kolfinnia listens to older witches tell stories of ghosts, creation, life & death, their allies and their enemies, of the serpent-twins Hethra and Halla, and of course of magic. Each story has something to add to her growing understanding of witchcraft and offers new insights into her world. Although Kolfinnia's Coven has its own story arc, writing a collection of stories was far more relaxed than a stand alone novel, like taking a lazy ramble instead of a fortnight's hike through the mountains with a leaden backpack.
I'll leave you with this thought – at four hundred pages and no illustrations, Watership Down was marketed as a children's book when first published way back in 1972. I've worked in a lot in schools and dipped into a lot of young literature, and while some of it is tremendous nothing quite compares to that moment when a bleeding and battered General Woundwort realises that Bigwig isn't the chief rabbit after all, and feels a shiver of fear . . .